How To Protect Your Band From Chinese Counterfeiters – Part 2
For a band to begin to protect their merchandise in China and keep counterfeiters at bay, the band must apply for both copyright and trademark protection in China.
Using both of these intellectual property rights, the band can protect their logos, lyrics, likenesses, and other images that are mos t likely to appear on merchandise. When properly registered for and approved, the band need then file it with the relevant bodies in China in order to protect the mark. This is the first step in protection and is outlined below.
I.  Registering For Copyright Protection In China
China is a signature to the Berne Convention which means copyright protections are granted automatically. A band, however, should not rely solely upon this international treaty to protect their copyrightable material. Registering for copyright protection in China will help to streamline the take-down process if a band ever discovered their merchandise was being counterfeited in China. Once a work is registered in China, the work will have protections for the life of the author plus 70 years after death. [1]
Registering for copyright protection in China can be a relatively straightforward process.
A band that wishes to apply for these protections need only go to the Copyright Protection Center of China's (hereinafter: "CPCC") website: http://www.ccopyright.com. Search engines such as Google Chrome can translate the webpage from Mandarin to English for the user's ease. The band then need simply follow the prompts online. (For a more detailed description on how to register for copyright protections in China, see our publication: The Sellers' Guide to Chinese Intellectual Property Law).
While registration for copyright protection in China may be a simple process, whether that registration is actually granted is a separate issue. Whether a copyright is registerable is determined both by the originality of the work. A band trying be granted registration for images not their own or slogans/lyrics that are already registered. Furthermore, China's copyright law has twelve exceptions that will disqualify one from gaining copyright protections.
Even if a band properly registers for and gains copyright protection, Chinese Copyright Law lists 12 exceptions where an individual in China could still use the registered works:
Personal use;
"Appropriate" quotation in order to introduce, comment on, or explain;
Use by the media to report current events;
Republishing or rebroadcasting another media source's story;
Publishing/broadcasting a public speech;
Use as a scientific work for purely teaching or researching purposes;
Use by the government "to a justifiable extent for the purpose of fulfilling its official duties;"
Reproduction for public display, such as a museum or library;
A free live performance;
Copying, drawing, or photographing or video recording a public artwork;
Translation of a Chinese citizen's work from Mandarin to a minority Chinese language, for distribution in China;
Transliteration of a published work into braille for publication. [2]
The takeaway for a band applying for copyright registration in China is that this process, while simple to begin, can be difficult to comprehend overall. Copyright exceptions such as the government's "justifiable…official duties" call to mind the fact that the Chinese government is communist. Because of this, there may be exceptions and nuances to copyright registration that normally would not have a problem in another country. As such, it is not unwise for a band to consider hiring an attorney to aid in the registration process. Experience in the Chinese marketplace can go a long way when it comes to not having future problems with a work's registration and the defense of said-work.
II.  Registering For Trademark Protection In China
A band seeking to protect images associated with their band, their band name, and/or their band emblem would do so by filing for trademark protection.
In China, this can be done in one of 2 ways:
(1) registering under the international system the "Madrid Protocol"
(2) registering domestically with the Chinese Trademark Office (hereinafter: "CTMO")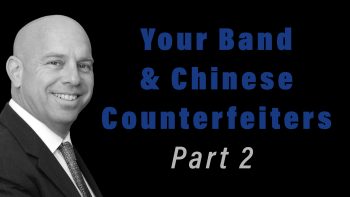 The Madrid Protocol is a component of the overall World Intellectual Property Organization of which China, and over 100 other countries, are members. The website is the Protocol's user-friendly tool for the user to register their mark. The website is in English and the entire registration process takes place on the site. Eligibility checks, brand searches, filing, payment, monitoring, and managing of the trademark can all be done via the website.
After filling out all relevant forms and paying all relevant dues, the user can select one or multiple countries for their applications to be filed. The application is sent to the different nation's domestic offices and is examined and later (hopefully) approved. Via this means of registration, a band can register their marks not only in China, but in any other WIPO-participant nation around the world. This makes this method of registration extremely convenient and economical.
The second option a band seeking trademark registration has is to file via the CTMO. The main benefit for filing via the CTMO over the Madrid Protocol is that the CTMO is a potentially faster process. The Madrid Protocol is a simpler process because the applicant files through the WIPO website, and then their application is sent to China, or any other country that the applicant has selected. This adds a middle man to the process that means it take longer for the CTMO to receive the application, rather than if the applicant had filed with the CTMO directly.
This increased-speed can be absolutely crucial due to the first-to-file system employed in China. To recap from our previous article, the first-to-file system in China means that whomever is the first to file a trademark, rather than to use the trademark (as is the case in the U.S.) gets the right to that trademark. By filing directly in China via the CTMO, therefore, the applicant can better avoid a potential situation where their mark is filed first by someone else, and they subsequently cannot gain trademark protection for their merchandise. For more information on the actual registration process, see Sellers' Guide to Chinese Intellectual Property Law.
III.  Registering Marks With Border
Once a band has registered for copyright protection, trademark protection, or both, these intellectual property rights can be used to shield a band from counterfeiters both inside and outside of China. The State Council of the People's Republic of China is the administrative body responsible for customs enforcement in China. Article 2 of the Regulations on Customs Protection of Intellectual Property Rights states:
Customs protection of intellectual property rights used in these Regulations refers to the protection provided by Customs for the exclusive rights to use a trademark, copyrights and their related rights, and patent rights…related to import or export goods and protected under the laws and administrative regulations of the People's Republic of China.[3]
In essence, this article empowers China's customs agency to seize any products that they believe are infringing upon a registered-individuals intellectual property rights. Once a band has copyright and trademark protection in China, that band should register their marks with border control. After this is done, the agency will seize any and all counterfeit products that they believe to be infringing upon the band's rights. This will keep counterfeit goods made in China from leaving the market and reverse, keep counterfeit goods from entering the Chinese market.
IV.  Chinese Counterfeiters – Part 2 Conclusion
While increased globalization, social media, and ecommerce has made a band gaining worldwide popularity and profitability more viable than ever before, these changes have not come without increased risk. A savvy band will be sure to register all their relevant copyright and trademark protections in China.
Which such registrations, a band can preempt many of the counterfeiting and infringing issues that are all too common in China. Even with these protections, however, issues may still occur.
---
[1] COPYRIGHT LAW OF THE PEOPLE'S REPUBLIC OF CHINA, art. 21, § 3 (Feb. 26, 2010).
[2] COPYRIGHT LAW OF THE PEOPLE'S REPUBLIC OF CHINA, art. 22, § 4 (Feb. 26, 2010).
[3] Regulations on Customs Protection of Intellectual Property Rights, Decree No. 395 of State Council of the People's Republic of China (effective Mar. 1, 2004).