How may intellectual property interests can be protected on Alibaba and, in the case of infringement, what is the procedure for drafting and submitting a takedown request?
Alibaba, like Amazon, has a strong policy against sellers who use their service to post and sell content which infringes on the trademarks, copyrights, or patents of others.
Alibaba takedown requests for IP infringement are entertained pursuant to the territorial protection of intellectual property rights offered by the reach of it's platforms.
Alibaba's Policy page presents the following example:
"Alibaba's China domestic platforms such as Taobao Marketplace accept take-down requests based on China registered intellectual property rights. Their international platforms such as Alibaba.com and AliExpress.com accept take-down requests based on international intellectual property rights.
Alibaba does not discuss or elaborate on what "international intellectual property rights" it refers to in its policy.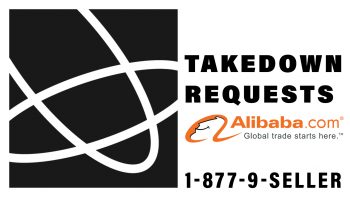 The 2017 USTR Notorious Markers report recently criticized Alibaba for the large number of counterfeit goods which routinely circulate on its platforms. In response, Alibaba released its own report, the 2017 Alibaba Intellectual Property Protection Annual Report, which declared 2017 to be a huge success for a recent development in the crackdown of counterfeit goods.
Compared to 2016, which saw 180,000 infringing stores being closed, Alibaba's Taobao closed over 240,000 stores for IP infringement in the year of 2017. Further, Alibaba claims that IP complaints have fallen by 42% and that the number of total counterfeit orders has dropped to .015% of all orders.
In addition to these positive numbers, Alibaba further claims that its good-faith takedown program will process a complaint within 1-3 business days and will remove over 90% of actually infringing listings.
Alibaba accepts and considers all such IP takedown requests online through its Intellectual Property Protection ("IPP") platform, which is a newer consolidated version of the AliProtect system which Alibaba used to rely upon. Through the IPP platform, Alibaba pledges to entertain complaints related to trademark, copyright, and patent infringement, as well as deceptive practices used to coax a sale such as intentional covering or blurring of infringing marks.
To submit a complaint through the IPP platform, a new user will have to create an account on the IPP platform at https://ipp.alibabagroup.com/login.htm. After account creation, the user will then need to upload a proof of identity, such as a passport, a driver's license, or, for an entity, a copy of the business registration certification or license.
Further, the user will need to specify what item or mark he or she would like to claim an IP right to, and will be required to upload a proof of that right, such as a copy of the official IP certificate held by the individual or, if the user is filing a claim on behalf of the IP holder, a letter of authorization written and issued by the rights holder. The user will then be free to submit an infringement claim.
Alibaba will investigate the situation and the offending product will either be removed from listings or, if the allegedly infringing party appeals, the contents of the appeal will be forwarded to the user.
As stated above, Alibaba pledges to investigate all IP claims within 1-3 business days.
This feature is a key difference between AliBaba and Amazon. While Amazon allows anyone to report intellectual property infringements, Alibaba takedown requests for IP infringement requires:
(1) identity information
(2) identification of IP rights before submitting a complaint
This two-step process makes it more difficult to report IP infringement on AliBaba than on Amazon.
First a band must prove its identity before submitting a complaint. If the band has a corporation already formed, such as an LLC or an S-Corp, they can register the band's products in the name of the corporation. To do this, they will have to upload a copy of the certificate of incorporation to prove the identity of the corporation. If the band does not have a corporation already formed, they will be required to submit proof of their personal identity to create an account.
Registering the band's account under a corporation makes it easier to have an agent submit complaints for them, rather than the band submitting the complaints themselves.
The second step to reporting intellectual property complaints on AliBaba requires having a registered intellectual property right in China or under an international body in addition to any copyrights you may have in the United States.
Unlike Amazon, where anyone can submit a complaint, the process of removing infringing material on Alibaba requires documentation proving the IP owner's existence and the rights to the IP in question.
This verification process limits the number of people who can report infringement on Alibaba and makes it easier to monitor fraud on Amazon than on Alibaba. Furthermore, Alibaba follows Chinese intellectual property law.
China is a "first to file" state.
This means that the rights to a copyright or trademark are granted to the first person to register the intellectual property right with the state. This is in contrast to the United States where the copyright rights are granted as soon as an original work is fixed in tangible form. The trademark rights are granted to the first person to use the trademark in a particular market. This formality makes it necessary for businesses to file for intellectual property rights in China, even though they may already have a registered trademark or copyright in the United States or another country.
Unlike on Amazon where the intellectual property rights of most countries are accepted for proving intellectual property registration, bands that do not file their copyrights or trademarks in China, or with an international board, have no intellectual property protections in China.
Therefore, a band looking to sell merchandise in the Chinese market must register for copyright or trademark protection to preempt the most common forms of intellectual property infringement, so the band can be as profitable and successful as possible.
Alibaba Takedown Requests for IP Infringement: Conclusion
Alibaba's takedown procedure is undertaken completely online through its IPP platform. In order to use this platform, a user account must be created and documents proving both identity and the ownership of IP rights must be uploaded.
Although Alibaba has held a notoriously rocky reputation as it relates to the protection of IP rights and the removal of infringing products, it has claimed that it is making strides in combating infringement on its platforms, and claims that it will adequately respond to any claims submitted alleging IP infringement timely and fairly.
In contrast to Amazon, Alibaba only allows those with registered intellectual property rights in China or with an international body to report complaints of infringement.
Therefore, despite China being a "first to file" district, the public forum which allows anyone to file a complaint on Amazon makes it easier to monitor infringement on Amazon than on Alibaba.