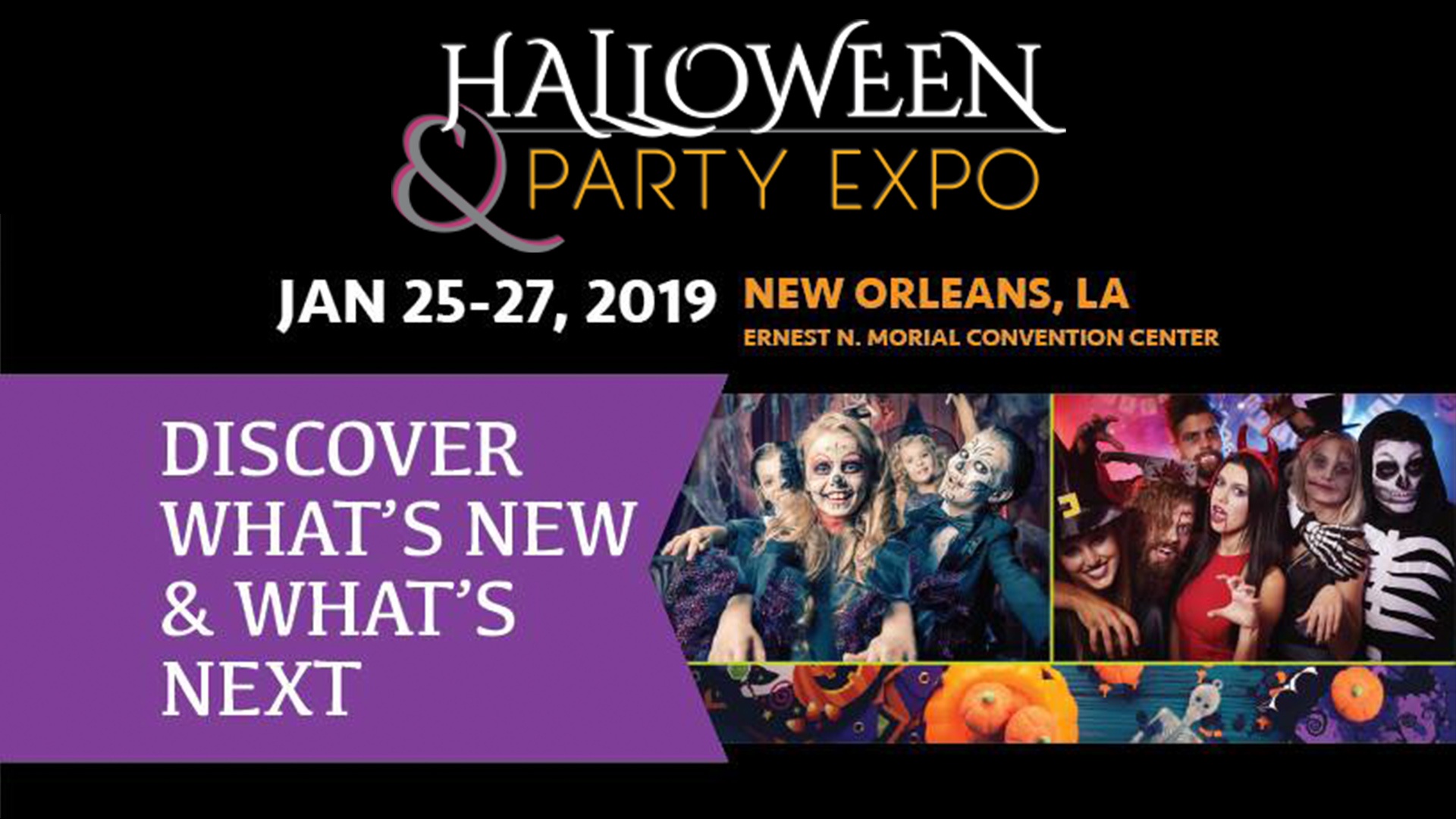 The Halloween & Party Expo is a trade-only event that brings industry professionals together each year. Co-owned by Urban Expositions and the Halloween Industry Association, the event provides a platform for sourcing, learning, and networking.
Halloween & Party Expo
January 25 – 27, 2019
Ernest N. Morial Convention Center – New Orleans, Louisiana
Proceeds from the Halloween & Party Expo are used by the Halloween Industry Association to promote and grow the safe celebration of Halloween and year-round costumed events throughout North America.
Get your first look at 1,000's of new products being released for the 2019 season. Now co-located with Hauntcon, providing you even more opportunity to diversify your merchandise and find unique and one-of-a-kind masks, props, décor and more!
Michelle Biordi, Executive Director of the Halloween Industry Association:
"The Halloween & Party Expo continues to be the leading resource for retailers and vendors to come together and this year was no exception. With the introduction of new buyer programs, we were able to grow the amount of specialty, online and international buyers at the show. The co-location of Hauntcon was also a great addition – not only bringing more buyers, but a new excitement, especially at the industry costume party. We look forward to seeing what 2019 brings!"
The expo features displays of costumes and apparel and it is all about fun and enjoyment with costumes and Halloween goods. The event focuses on providing new costumes and products based on recent trends and launches from all around the world.
Visitors: 20,000 – 50,000
Exhibitors: 500+
Halloween & Party Expo has long been the destination for trend spotting and product releases for the Halloween season and every day party needs. The first year co-location with HAuNTcon the Haunted Attraction National Tradeshow & Convention further expanded the show floor with a focus on props and décor, masks and make-up for the Halloween buyers to source.
For more information visit www.halloweenpartyexpo.com
The Halloween Industry Association (HIA) was formally incorporated in 2005 as a 501(c)(6) trade organization to promote and build the celebration of Halloween in the United States.
HIA represents businesses involved in the manufacture, importation or distribution of Halloween products including costumes, décor, novelty items and party supplies.
HIA has grown to become the preeminent authority on Halloween and serves as a non-profit voice of the industry.