American Association for Justice (AAJ) 2019 Winter Convention
February 2-5, 2019
Loews Miami Beach – Miami Beach, FL
Knowledge and networking: A winning combination.
Join CJ Rosenbaum at the AAJ 2019 Winter Convention in Miami Beach!
Don't miss this opportunity to access exclusive AAJ Education, hear from leaders in the legal field, connect with colleagues, and expand your skills to benefit your practice. Be sure to check out the complete schedule for all of this year's can't-miss events.
This convention gets better each year. Come meet with leaders in your areas of practice and join the lively exchanges that take place during the more than 200 events at the convention.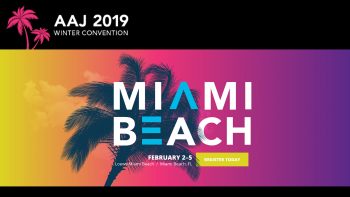 Accomplished trial lawyers and experts will discuss the latest developments in trial advocacy and specialized topics at 10 cutting-edge Continuing Legal Education (CLE) programs designed to help you better represent your clients. Earn up to a year's worth of CLE credits at these programs designed by plaintiff lawyers for plaintiff lawyers.
Build powerful connections, increase your knowledge, and stay ahead of the curve when it comes to the latest developments in your practice area by attending Section, Litigation Group and Committee meetings.
The Mission of the American Association for Justice is to promote a fair and effective justice system—and to support the work of attorneys in their efforts to ensure that any person who is injured by the misconduct or negligence of others can obtain justice in America's courtrooms, even when taking on the most powerful interests.
The American Association for Justice works to protect a strong civil justice system.

As the world's largest trial bar, AAJ promotes justice and fairness for injured persons, safeguards victims' rights—particularly the right to trial by jury—and strengthens the civil justice system through education and disclosure of information critical to public health and safety. With members worldwide, and a network of U.S. and Canadian affiliates involved in diverse areas of trial advocacy, AAJ provides lawyers with the information and professional assistance needed to serve clients successfully and protect the democratic values inherent in the civil justice system.