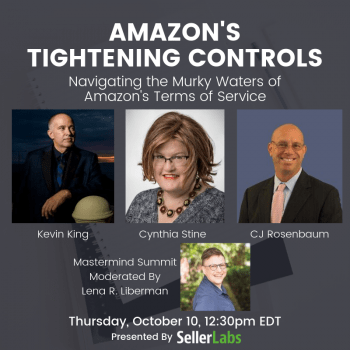 Understanding Amazon's Tightening Control: a mastermind summit featuring some of the industry's boldest experts.
Thursday, October 10, 2019 @ 12:30PM EDT
Hosted by Seller Labs
Third-party sellers account for 58% of goods sold on Amazon, yet Amazon seems to make this partnership increasingly difficult and costly for the sellers fueling its profits.
Join CJ Rosenbaum for this Mastermind Summit featuring some of the industry's boldest experts, hosted by Seller Labs. Catch CJ, along with [other presenters] as they talk about:
Why, when 3P sellers are so key to Amazon's success, the company saddles them with increasing restrictions and fees.
Why Amazon has tightened its control over sellers so much in the last year.
What we can extrapolate about the many policy changes and what may be next.
How Amazon sellers can stay successful, strong, and compliant when it often feels that the deck is stacked against them.
Tune in Thursday, October 10th, for this exciting 90 minute virtual summit.
Expert panelists will discuss Amazon's tightening grip on sellers and what it means presently and going forward.
12:30-1:15 PM: Navigating the Murky Waters of Amazon's Terms of Service
Moderator: Lena R. Liberman
Panelists: Kevin King, CJ Rosenbaum, and Cynthia Stine
You have questions and concerns, we have answers and insight! You only need to register once for one or both sessions. Show up when you can, stay with us as long as you're able.
CJ Rosenbaum is the founding partner of the only full-service, international law firm solely focused on Amazon sellers.
Rosenbaum Famularo, PC, the law firm behind AmazonSellersLawyer.com, has full time staff in New York, Shenzhen, China Yiwu, China and Melbourne, Australia.