5/29 – 5/30/2019
Retail Global Australia Ecommerce Conference & Exhibition
Private Label Masterclass Hosted by Amazon Sellers Lawyer CJ Rosenbaum
CJ Rosenbaum, Esq., founder of the largest and most respected law firm for sellers around the world shares methods to create and protect an asset you own.
CJ uses his knowledge of Amazon suspensions, intellectual and entrepreneurial law to teach sellers how to create their brand (logo, trademark, copyright, patents); protect it from domestic and foreign threats, and develop a business asset that can survive on and off Amazon.
In this intensive masterclass, CJ will dissect the top 3 issues for AU brands and how AU sellers can protect themselves and enjoy long term growth on ALL online platforms.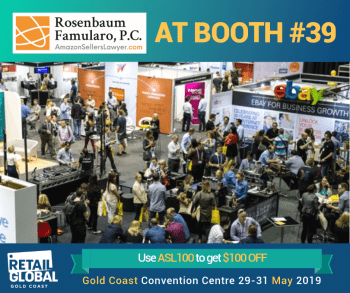 Retail Global Australia: Full Masterclass Contents:
Protecting your AU brand in the US, UK, Japan – includes expanding your intellectual property rights around the world. You will learn how to register your rights around the world right from your laptop during the workshop.
Policing & enforcing your IP rights in the US, UK on all platforms.
Chinese intellectual property law for online brands – learn how to register your trademark in China and other key steps to protect yourself from your own Chinese factory.
Gold Coast Convention and Exhibition Centre
2690 Gold Coast Highway, Broadbeach, Queensland, Australia 4218