Intellectual property complaints (both valid and baseless) have become somewhat of a regularity on the Amazon platform, and a common cause for seller suspensions.
For Amazon sellers, intellectual property issues can be complex, but more importantly, they can cause your business to shut down completely if you lose your ability to sell.
The First Sale Doctrine provides a defense for Amazon sellers accused of trademark and copyright infringement. Essentially, once a product is legally purchased, the First Sale Doctrine gives the owner the right to sell that product to whomever they wish.
However, there are 2 exceptions to the application of the First Sale Doctrine which Amazon sellers must be aware of:
Material Differences and Consumer Confusion
This article will teach sellers everything they need to know about the exceptions to the First Sale Doctrine and why it is so important to respond to intellectual property complaints.
Listing Suspension vs. Account Suspension
Sometimes, an intellectual property complaint on the Amazon platform results in a listing suspension, but they can also result in an account suspension. A listing suspension means that your Amazon seller account is not permitted to sell one particular product, while an account suspension means total inability to conduct any sales. Although a listing suspension can seem like nothing to worry about (especially if the Amazon seller is low on inventory or doesn't sell a lot of that product), they should be taken seriously. While results can vary from account to account, even one or two intellectual property complaints can lead to a seller suspension and Amazon holding seller funds.
Sellers must realize that intellectual property law goes well beyond the scope of Amazon's policies and terms of service. Rights owners can and do act outside of Amazon's report infringement page and sometimes will bring their intellectual property complaints to a court of law. Once this happens, the opportunity to negotiate a retraction of the complaint with the rights owner is lost.
The First Sale Doctrine
The First Sale Doctrine provides that anyone who purchases a branded item has a right to resell that item in an unchanged state.
This means that Amazon sellers who do no more than stock, display and resell a genuine article bearing a true mark are generally protected from claims of intellectual property infringement and thus seller suspensions. Once a product is legally purchased, the First Sale Doctrine gives the owner the right to sell that product to whomever they wish.
However, in order to avoid suspensions Amazon sellers must be aware of the two exceptions to the First Sale Doctrine: "Material Differences" which cause "Consumer Confusion."
What is a Material Difference?
A material difference means that there is some sort of noticeable difference between the product sold and the same product in manufacturer's condition. The difference must be to such an extent that it will create "consumer confusion" as to the source or brand of the product. Therefore, an Amazon seller who is selling authentic products which still are somehow materially different from manufacturer's condition (lack of manufacturer packaging, warranty, etc.), may be liable for intellectual property infringement because their products will not be considered genuine under the law. Multiple intellectual property Amazon complaints put seller accounts at a high risk of suspension and Amazon holding seller funds.
The phrase "Material Difference" seems to mean only what the product looks like or other basic characteristics. However, certain product characteristics like quality control standards, money back guarantees, and warranties must be offered and implemented by Amazon sellers for products to be considered genuine. [1]
For example, at Amazon Sellers Lawyer, our team reaches out to intellectual property rights owners on behalf of our clients almost every day to help them get complaints withdrawn and appeal Amazon suspensions. However, even if the products you are selling are authentic, and even if you make purchases directly from an authorized distributor, product traits like quality control measures and satisfaction guarantees can be considered material differences that void the application of the First Sale Doctrine.
Quality control standards & money back guarantees can be material differences.
Certain brands or manufacturers establish quality control standards which their suppliers and distributors are required to maintain if they wish to continue selling the manufacturer's products. Quality control is a procedure or set of procedures intended to make sure that products will meet the requirements of customers.
Amazon sellers must pay attention when sourcing their products and ensure that the brands they sell do not have quality control standards in place. Why? Because, per federal courts throughout the United States, it is well recognized that goods are "materially different" and thus inauthentic or not genuine, if they fail to conform to the trademark holder's quality control standards. [2] The same applies to "product features" like warranties and money back guarantees.
How are Amazon sellers affected?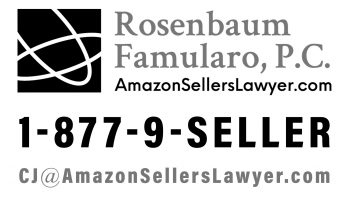 While this exception to the First Sale Doctrine is not new law, it's application has become more relevant to Amazon sellers as infringement complaints (both valid and baseless) have become more common than ever on the Amazon platform. For example, sellers who fail to consider quality control and money back guarantees when sourcing their products may be a greater risk of losing their business due to infringement complaints in the future.
We have seen what can happen to sellers when they are unaware of the law. One of our clients sells footwear on the Amazon platform and is quite successful (generating over $200,000 in sales per month). Our client listed a certain brand which they were unaware offered a "30-day comfort guarantee," and required adherence to quality control standards for authorized distributors. The brand owner ultimately filed an infringement complaint against our client.
Our client was lucky, and this issue did not ultimately cause them to end up in court defending their business practices. Once our client understood the seriousness of their actions, we were able to meet with the rights owner, reach an agreement and arrange for the removal of our client's complaint. Ultimately, our client was able to quickly return to selling on the Amazon platform once the complaint was removed.
What happens when intellectual property complaints are ignored?
Typically, when Amazon sellers receive intellectual property complaints, the first step is to contact the rights owner to ascertain the basis for their complaint. This process usually involves several email or letter correspondence with the rights owner. When a rights owner (or any other complainant) files a complaint in court, notice of the impending lawsuit must be sent to the party accused of intellectual property infringement.
If an Amazon seller ignores notice of a future lawsuit, the rights owner can seek what is called a default judgment against you. A default judgment is a binding order by the court in favor of one party due to the failure of the other party to act. In this context, Amazon sellers will be at risk of default judgment if they ignore notice of infringement or impending lawsuits; an issue that goes well beyond the scope of a seller suspension.
In addition, courts can exercise what is called personal jurisdiction over Amazon sellers who may be committing intellectual property infringement. Personal jurisdiction is simply a court's power over individuals involved in a lawsuit. It comes into play when the parties to a lawsuit live in different states. However, courts have held that personal jurisdiction exists for out of state defendants who allegedly engage in the sale of infringing products online. [3]
This means that a rights owner can force you to come to court in their home state if you do not properly cooperate and adequately respond to their notices of infringement.
Conclusion
Every seller's top concern is driving profits, remaining successful at what they do, and avoiding Amazon appeals. Intellectual property issues can be complex, so it is important to make sure that you and your business have at least a basic understanding of the law. Amazon sellers who sell brand name products must comply with the First Sale Doctrine. This means maintaining manufacturer condition, including warranties and guaranties.
While it may seem like a good idea to ignore an intellectual property complaint, especially if you receive only a listing suspension or if the item is not crucial to your sales volume, the results of doing so can be devastating to your business. Regardless of the situation, it is always more cost effective to communicate with a rights owner and attempt to avoid litigation if possible.
Intellectual property law is complicated, but our firm is here to help. If you find yourself dealing with an intellectual property issue or a seller suspension do not ignore it — give us a call instead 1-877-9-Seller.
---
[1] Ahava (USA), Inc. v. J.W.G., Ltd., 250 F. Supp. 2d 366, 369 (S.D.N.Y 2003) (An unauthorized product "is not considered genuine, if the product does not meet the trademark owner's quality control standards."
[2] Id.
[3] See Advanced Skin & Hair, Inc. v. Bancroft, No. CV 11-6587 RSWL, 2012 (C.D. Ca. Mar. 14, 2012) (finding personal jurisdiction over non-California defendant who allegedly was engages in selling trademark infringing skin care products online).