May 23, 2019 – Manchester, UK
At 1:30 pm, Anthony Famularo, Esq., founding partner of AmazonSellersLawyer.com, will be speaking about private label brand protection.
Anthony Famularo is Partner & Managing Attorney at Rosenbaum Famularo, PC (AmazonSellersLawyer.com). Anthony has been with the firm since it was founded. As Managing Attorney, he has experience in handling thousands of cases for Amazon sellers of all sizes dealing with both buyer and rights owner complaints, as well as other suspension issues. In addition to helping sellers deal with account issues on a daily basis, Anthony also helps sellers develop and protect their brands and related intellectual property rights.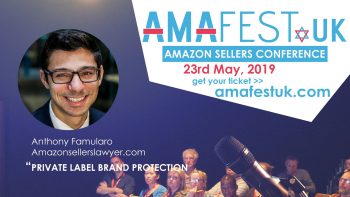 Whether you're a reseller or a rights owner, you have likely seen, heard, or have been directly involved in an infringement complaint on the Amazon platform.
Since Anthony focused on appealing complaints in last year's presentation, this year he will focus on enforcement from a rights owner's perspective.
In this presentation, he will discuss enforcement of trademark, copyright and patent infringement claims on Amazon.
He will review the overall general process for enforcement, including:
a) requesting voluntary compliance from infringers,
b) reporting infringers directly to Amazon and
c) when to escalate a dispute off Amazon through arbitration or litigation.
Other topics will include the First Sales Doctrine (and exceptions); Digital Millennium Copyright Act (DMCA) Take-down Procedures; and Amazon's new Neutral Patent Evaluation Program.
Meet | Network | Grow
Top 3 Reasons to Attend:
1- Prime Networking. This event has networking like no others. Meet likeminded Amazon sellers and industry Experts professionals.
2- Education. A unique learning environment with top speakers that will help you to stay abreast of the top trends in the industry.
3- Grow. Expect your business to grow globally learning the rules for success with marketplaces.
With great networking opportunities with fellow sellers, the opportunity to meet new suppliers who will be there to share hints and tips (and not 'sell') you will gain invaluable insights to help you. Drinks and lunch are provided for you.
Amafest: UKFast Campus, Birley Fields, Manchester M15 5QJ
For more information – https://amafestuk.com/