Big Shot Billy Joel was running down the River Of Dreams until an unlicensed seller was selling his merchandise.
Root Beer Rags, Ltd. was the authorized seller of Billy Joel merchandise who was Movin' Out of their tent inside the Milwaukee Arena to see why they were not selling as much merchandise as they should have been. They discovered that there were multiple unauthorized sellers, The Stranger(s), outside of the arena which hurt Root Beer Rags, Ltd.'s sales.
Billy Joel is also damaged by these other sellers selling and taking away sales from Root Beer Rags Ltd. since he receives a percentage of the sales. These sellers tend to sell products with Billy Joel's likeness on it; it bears his picture and name on it. Since he did not allow them to use his likeness, he sued them under the Lanham Act, 15 U.S.C.S. § 1125 (43)(a).
The Lanham Act, states that anyone who
"in connection with any goods and services, uses in commerce any word, term, name, symbol, or device… which is likely to cause confusion… or association of such person with another person, or as to the origin, sponsorship, or approval of his or her goods, services or commercial activities by another person… shall be liable in a civil action by any person who believes that he or she is or is likely to be damages by such act."
This is exactly what Billy Joel claimed against the multiple infringers. They were selling t-shirts with his face and name on it. There was a name, which is in direct violation of the statute and his face is a symbol of his work, and by them putting both on the t-shirts they were selling they were opening themselves up to being brought to court.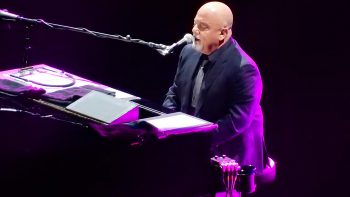 The issue with Billy Joel bringing this lawsuit was he requested the court to enjoin the sale of unauthorized merchandise and to seize the counterfeit goods. The court for one does not even have the power to order injunctive relief — which is to say the court cannot force someone to do or to stop doing something— against a party that the court has not required in personam jurisdiction. The courts also do not like naming parties "John Doe" since it does not identify the actual identity of the defendant, it just keeps it vague and impersonal.
The courts ruled in favor of the Piano Man since the plaintiffs would be without any legal means to avoid the financial loss they have incurred and would in the future. The court was okay with the identities of the defendants being vague because the restraining order, when filled by the court, would be served on all parties whose merchandise was being seized. Once those parties are served, they will be asked to reveal their names and then will be added to the lawsuit. The caveat is that whether or not they reveal their names they will still need to show up in court on a certain date. Therefore, the court ruled in favor of Billy Joel and Root Beer Rags Ltd. since it is so clearly an infringement of Billy Joel's rights.
While the defendants might have claimed, "I am An Innocent Man," Billy Joel and Root Beer Rags Ltd. had them dead to rights with the Lanham Act, which proves to be one of the biggest defenses for bands and music producers to protect themselves against infringers, according to courts.
And So It Goes that we here at Rosenbaum Famularo, P.C. can help protect your hard work.
You May Be Right in saying "My Life is fine, I don't need any help," but we have seen many cases where people lose out by not getting the protection they should have gotten. We can make sure that all the time you put in for your songs and albums, even if you think you are good Just the Way You Are, will be protected and not stolen by anyone.
Any work-product you have registered for trademarks and copyrights will be yours and only yours; no one else will have permission to use it. To make sure you are protected from being financially damaged, you don't need to have a New York State of Mind, anybody can do it; but if you want to make sure you are doing it right, give us a call, because while we haven't been doing this for The Longest Time we know what we are doing, and we do it well.
---
This article was researched and written by CJ Rosenbaum, Esq., and Anthony Famularo, Esq., the founding partners of Rosenbaum Famularo, P.C., law firm behind AmazonSellersLawyer.com.